Cerebral Palsy Clinic at Jupiter Hospital

Living with cerebral palsy requires a lifetime of an expert medical care .We at Jupiter Hospital Cerebral Palsy Clinic provide a full range of services for these children . We provide comprehensive clinical care and support for children with such disabilities. An interdisciplinary team of Professionals work together to address all complex needs of children with cerebral palsy and other neurological conditions that affect motor development.
Children receive a comprehensive evaluation with follow up care and re-evaluation by the core interdisciplinary staff from the Renowned Pediatric Orthopedic  Surgeon Dr Taral  Nagda along with Dr Chasanal Rathod an internationally trained Pediatric Orthopedic surgeon who has worked with cerebral palsy institutes in India and abroad. Our expert Dr Ashok Shyam conducts Clinical research to promote the highest standards of care to the patients.  Our team also consist of-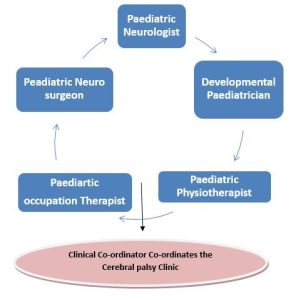 Assistive technology options range from orthoses that support the legs are prescribed after a detailed evaluation of the patient .We have embarked upon a citywide outreach effort to increase cerebral palsy awareness. We have  meet several special schools and NGO's and offered them  the best clinical services .We have conducted several outreach camps for families unable to reach our clinic. We also help them throughout the entire process of Niramaya Registration a reimbursement claim wherein the government covers their entire surgical and rehabilitative expenses for these children.
We believe that each and every child with CP is blessed with abilities which makes them  extra special .We also conduct cultural events to motivate the spirits of these children and their family members. We also have a feeding room for mother's and an amazing play garden where the child is evaluated at times in order to achieve complete co-operation from the child. The best part about our team is that we are always ready to help and answer any queries .We believe that from the time the parents and their child enters our clinic they are  "our care and responsibility". Making the child as independent as possible and encourage their social participation  in all activities,  is what we aim  to achieve.
Dr. Chasanal Rathod
Paediatric Orthopaedic Surgeon
Cerebral Palsy Clinic, Jupiter hospital.
Tel: 9322029888
Email: cpclinic@jupiterhospital.com
Download the CP Clinic Brochure and Details